New Year/Habits/Goal Setting
The new year is here, and we will see many of our friends and family members chart a fitness course to a new and improved them.
It is a great time to think of things that we want to achieve and set targets for the new calendar year.
The general idea is that gyms will skyrocket in both attendance and memberships during the first few weeks, and then people will start to fall off the
"bandwagon."
Those of us that want to perform better on physical fitness tests or get back to where we were when we were our first unit should consider setting realistic goals and plan them with enough time to make progress.
Weaknesses
The first thing a tactical athlete should think about would be where his/her weaknesses are or
some areas that were neglected in the past year. If you are honest with yourself, you will find areas that could use to be focused on, even if just for a few days a week/month.
To find weak areas, you can look at data from previous performance evaluations, such as a combat fitness test or from your gym log.
If you are training martial arts, do you feel like you need to improve your conditioning to last longer?
If you are trying to compete in a bodybuilding competition, what are some lagging body parts that need to catch up with the rest of your body?
If you are a powerlifter, what imbalances are keeping you from hitting new personal bests?
Gathering Intelligence
We spend a lot of time gathering intel on the enemy or the opposing team before we approach
any mission and your training is no different. Our enemy takes the shape of poor nutrition
choices, poor sleep habits, overtraining, procrastination, etc.
These poor habits may have kept you from glory in 2019, but we can do something about it as we enter 2020.
The way we conquer poor habits is by developing new habits, although small, but have extended-lasting health benefits.
There are a plethora of resources that are released this time of the year to guide people in their pursuits of health and wellness.
These resources often show their faces in one size all approach or a recurring payment.
We are looking to enable you to build habits that will make long-lasting changes.
Elite Habits and Disciplined
The best way to make lasting change is to develop one new habit at a time until it becomes
natural. This could be something as simple as setting a goal to get more sleep each night and
practicing this habit until it becomes natural to you.
Some people need the structure of a 12-week workout regimen with all of the days and repetitions spelled out for them to feel successful.
This is building the habit of going to the gym three to four days a week and working out each body the part at least once a week.
As a military member, you have already developed the ability to be disciplined and can work on these habits at a higher level than your average person.
Fitness Goals/Op Plan/Game Plan
Take time to write out those performance assessments that you want to do well on and back plan with enough time to see results.
It may be a great time to take a mock test to know where you stand and use this as an accurate measurement of where you are currently.
Go over your weaknesses and plan a habit or plan to address it directly.
If overeating is your area of conflict, then choose to eat a little slower and savor every moment but not until you are full.
If flexibility is a problem, then you can add time in your warm-up to work on this.
We are warriors and are continually training our bodies to be a fortress, not just a temple. We are the few people that are training for survival and not aesthetics.
Our training, conditioning, and fitness levels can mean life and death. Let's take on this new year head-on and achieve our goals in the most aggressive but logical way possible.
As you are making changes, ensure you have a progressive plan and do not race to "burn out." If you need additional assistance, you can contact a local fitness professional or us to ensure that your goals are appropriate and will bring you the results you are looking for.
I urge you to set up rewards along the way to celebrate the small victories and encourage you along the way. Set some accountability along the way with someone that can hold you to your goals.
That person can be a coach or just a friend who knows how important this is to you.
In the pursuit of your goals, check for results along the way and check to see if you need to make adjustments. Finally, enjoy yourself and always get back up when you experience a setback. We all wish you the best and hope to join you on your quest for excellence.
Looking to get more information on our NEW coaching platform we are dropping for 2020?
-Click Below- Grab Your FREE WORKOUT- and let the good times roll!
Grab The Intel & FREE WORKOUT-
Written By: Jeremy Mallory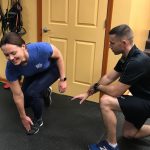 I joined the military about 16 years ago. I am an active duty Marine, and I work as an instructor at officer candidate school in Quantico, Virginia. I grew up in sports, and I have been in martial arts pretty much since I graduated high school. I have three kids, three cats, one dog, and live in Silver Spring, Maryland. I have been a trainer since 2007 and started doing it to help family members who needed to experience lifestyle changes. Since I have been active duty, I have worked as a trainer whenever I can, and in any arena, I could find along the way. I began working with tactical athletes both as a unit leader and working with military and first responders out in the community.
I currently train military and law enforcement in the great D.C. metro area.  I have worked with military units from various countries while traveling, sharing training methods and ideas both in their martial arts training and physical training methods. My most recent specialization was as an Alpha Warrior Obstacle Course Level I and Level II Certification. Alpha Warrior is the Army and Air Force's new fitness programming push to prepare soldiers and airmen for tactical performance.  I have a tactical fitness certification and performance specialist through Exos.
Some of my other specializations include: martial arts conditioning, corrective exercise, group fitness, precision nutrition, strength and conditioning, performance enhancement specialist, battle ropes, bodybuilding, kettlebells, and I am a Master Certified Fitness Trainer.
---