Military Workout Gear

One of the most fascinating aspects of being a Marine was seeing the phrase, "Adapt and Overcome" in its physical manifestation. From Building bases to up armoring TRAMs, Marines do more with less. This even extends into our physical training. If you put enough Jarheads into one location for a long enough time they'll build a gym with what they got. Today I want to share some of the most unique ways I've seen Marines do more with less when it comes to staying fit with military workout gear.
Using What You Got

Getting in fighting shape in the States is easy, staying in shape while you're in the fight is the hard part. Luckily the military issues you a few pieces of gear that can help you keep those hard-earned gains while deployed.

Bodyweight Plus

Bodyweight exercises are always a go-to in the military, it's simply the easiest way for large groups of people to work out together. Overseas it doesn't need to stop, and tossing on your flak jacket, combined with plates, is going to make things just a bit tougher. Two large ESAPI plates and two side SAPI plates are going to add about thirty pounds to your body.
Don't stop there though, if things start to feel a little lightweight every loaded M4/M16 magazine weighs about a pound. If your SNCO's won't yell at you for looking like Rambo a belt of 100 7.62 linked weighs 6.6 pounds and drapes nicely across the body. The weight starts to add up quickly.

This is going to change how everything from squats to pushups feels. It'll make you stronger in the fight because your body will be more accustomed to training while wearing a fighting load.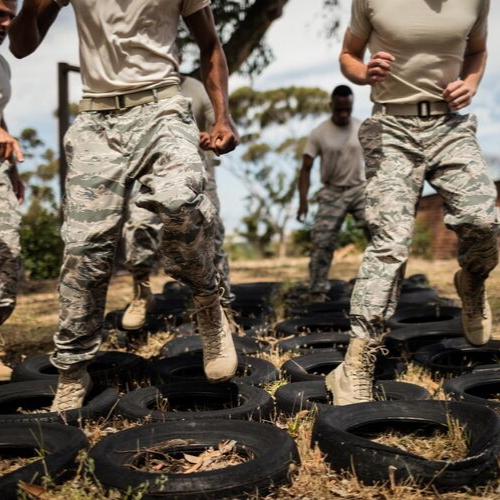 The Old Rifle PT
Rifle PT is another tool you can use when space and equipment are limited to work out in. What's unique is that rifle drills get you closer to your rifle. It'll make the rifle an extension of you as you get used to its weight. Modern rifles aren't that heavy, but the exercises you do with the rifle are what matters.  Army Training Manual FM 21-20 Chapter 8 Pages 11-12 list 4 exercises that take advantage of the rifle's lightweight nature while challenging your body.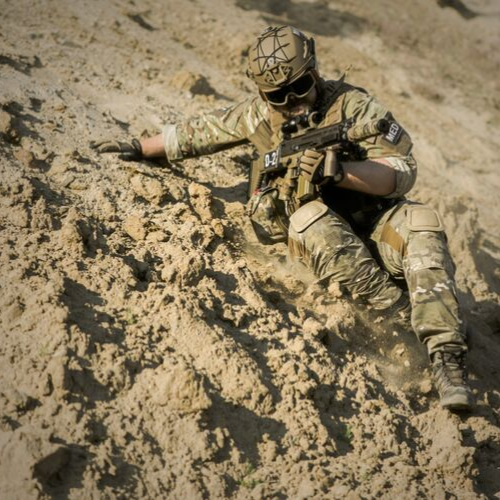 Training to Save
If you have a squad sized element to PT with you can even sneak some real training into your workout. Go ask Doc for a Medical litter, and when he gives you a weird look assure him it's being used for proper training. Load the medical littler down with weight, you can use sandbags, flak jackets, or even an actual person.
Mix in sprints, lifts from the ground, overhead lifts, squats and more to not only train your body but to ensure your men are in life-saving shape.
'Adapting' Gear
Generations of deployed servicemen and women have discovered that anywhere and anything can be a gym. You can often take the equipment around you and turn it into an effective gym.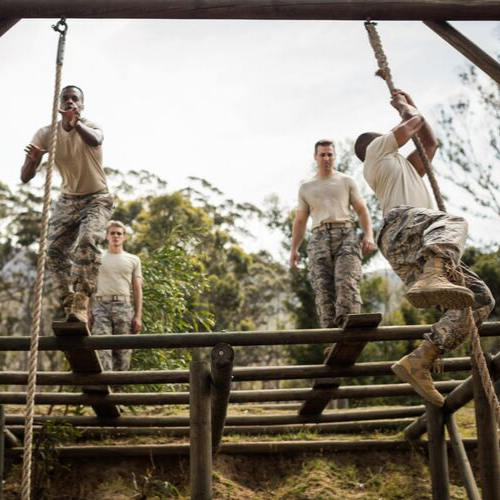 Sandbags
Filling sandbags isn't always fun, but if you can snag a few from Gunny you can make some interesting pieces of workout gear. Filling a sandbag about 3/4s full and applying liberal amounts of duct tape can give you an effective medicine ball. Add a handle via duct tape or paracord and you have a kettlebell. With one of these, you can do the following exercises.
Squat Press and Throw
• Turkish Get-Ups
• Medicine Ball Pushups
• Weighted Pass (Requires a buddy)
• Overhead Slam
• V-Up
• Lunge With Twist

Take it a step further and use an old Seabag filled with several sandbags and now you have some serious weight for:
• Squats
• Deadlifts
• Military Press
• Tricep Extensions

Jerry Cans

Those five-gallon water cans are everywhere and I've never seen anyone in the military get denied water. Grab a couple and add to workout gear!  You can get an awesome workout in. When these cans are filled to the top you have about 40 pounds of raw weight. As an added bonus, the sloshing weight of water forces you to utilize rarely worked stabilizer muscles. These cans are bulky, but there are a number of exercises you can do with them including:
• Farmers Walk
• Shrugs
• One-Leg Deadlift
• Jerry Can Curl
• One-Armed Rows
Ammo Can Hell
When something is so popular with troops it leaks into an actual physical fitness test you know you are doing something right. A 50 cal ammo can hold over 35 pounds worth of sand and can be a valuable piece of equipment. The Marines even introduced this workout gear into their combat fitness test. With an ammo can or two you can do:
• Standing chest press
• Curls
• Farmers Walk
• Relay sprints (Requires multiple people)
• Goblet Squats
• Ammo Can thrusters (Like Kettlebell thrusters but you know, with ammo cans)
Tires
A big tire is a terrible thing to waste. If a tire goes bad it's no reason to scrap it. The amount of exercise you can do with a tire is amazing, and it really builds the entire body. A seven-ton tire, in particular, will absolutely thrash you if used correctly. With a nice heavy tire, you can do:
• Tire flips
• Box Jumps
• Tire Drag (Grip inside and drag backward with while tire lays flat.)
• Step-Ups
• Tire Slams (When combined with Sledgehammer)
Workout Gear
Not all gear used in the field is improvised. In fact, there have been a few items that have been especially popular with the military overseas. The one thing these pieces of equipment have in common is adaptability, low weight, and small size. This makes it easy to pack and play.
• TRX Suspension training system. This full-body workout system can attach to nearly anything, including an MRAP. You can get a great full-body workout with a piece of gear you can squeeze into an assault pack.
• Jump Ropes are another small, but excellent piece of gear. If it's going on deployment you don't want the cheapest jump rope because it will break. Rogue Fitness makes several outstanding options for serious training.
• Resistance bands are another excellent tool to bring to the field. They add a bit of resistance training and allow you to isolate certain body parts. Plus, they are amazing for warming up, and flexibility exercises.
Staying Big
Being deployed, or being in the field, isn't a good reason to let your fitness slip. The same goes if you're on a budget and looking to build some workout gear. A lot of this gear can be easily found online or in surplus stores and built without going broke. When it comes to working out you should never let the lack of a fancy gym slow you down. Improvise, overcome, and adapt.
If you are looking for a program that can be done absolutely anywhere- CLICK BELOW
Only click here if you are serious about building strength, power, and endurance.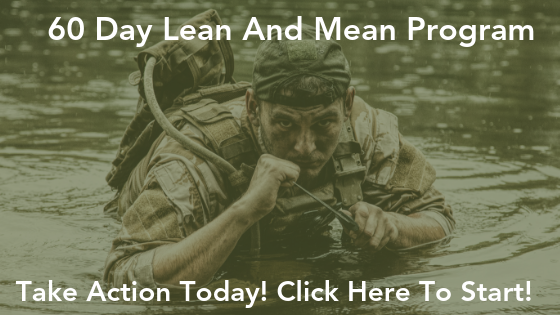 ---